20% Discount Games Workshop, wargames and miniatures with Wayland Games - Wayland Games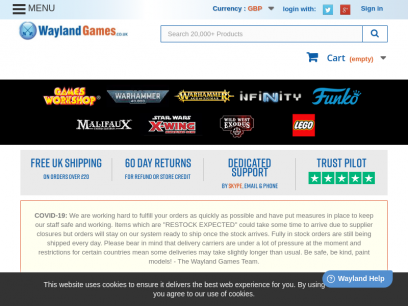 Up to 20% off top wargames, board games, miniatures & more at Wayland Games - Europe's largest independent retailer of tabletop games. Discount Warhammer 40k, X-Wing, Infinity, Malifaux, Magic, & Warmachine as well as more savings on all tabletop games.
Menu Pre-Orders   Pre-Order Items Necromunda: Hive War - English Necromunda: Escher Weapons & Upgrades Necromunda: Goliath Weapons & Upgrades Warhammer Underworlds: Hedkrakka's Madmob - English Warhammer Underworlds: Silent Menace Deck - English Dystopian Wars: Mozhayski Battlefleet Set Dystopian Wars: Empire Frontline Squadrons LWX: Legendary Ichiko Kuga Corvus Belli: Infinity / CodeOne Descent: Legends of the Dark Digimon: The Card Game Dune RPG: Adventures in ...
Stats
---