Sketchful.io - Multiplayer Drawing and Guessing Pictionary Game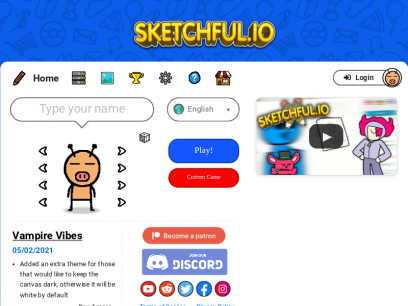 Sketchful.io is a free online drawing and guessing game. Play pictionary with anyone in the world! Be the fastest to guess and earn the most points to win!
Name Type your name Language Language English Spanish French Russian German Romanian Italian Portuguese Turkish Hungarian Dutch Polish Swedish Ukrainian Czech Danish Finnish Estonian Latvian Slovakian Bulgarian Serbian Greek Arabic Hebrew Korean Filipino Chinese (Simplified) Chinese (Traditional) Japanese Vietnamese Thai Hindi Indonesian Norwegian Afrikaans Irish ▼ Avatar Play! Custom Game Free D...
Stats
---