BTSull.net – Weather. Tech. Business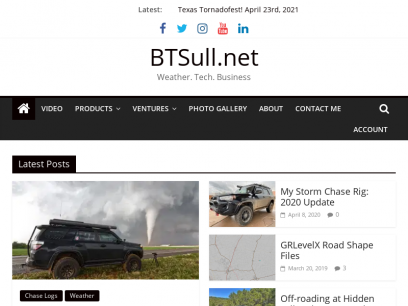 Brandon Sullivan is a storm chaser & technology entrepreneur, who blogs about tornadoes & technology products from drones, cameras, connected home & more!
Latest Posts Chase Logs Weather  Texas Tornadofest! April 23rd, 2021 May 16, 2021May 16, 2021 Brandon Sullivan 0 What looked like a decent supercell day, with a threat of a few tornadoes, turned out to be a top 5 career chase for me, only a few hours from home! Blog Technology  My Storm Chase Rig: 2020 Update April 8, 2020April 8, 2020 Brandon Sullivan 0 Blog Technology  GRLevelX Road Shape ...
Stats
---