Buy CSGO Skins safely - SkinBaron - made in Germany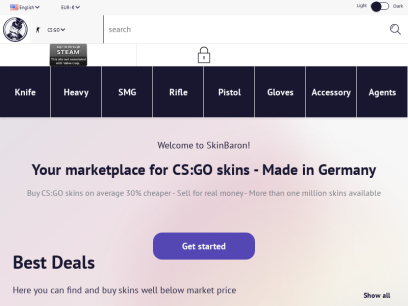 Buy your CS:GO Skins and keys on SkinBaron! Low prices, instant delivery and many payment methods. SkinBaron - your german marketplace for Skins.
Buy. Sell. Real Money. Your marketplace for skins – made in Germany Buy and sell your desired skins, safe and easy at our marketplace. Get started Best Deals Here you can find and buy skins well below market price Show all Show all ★ Talon Knife | Case Hardened Covert Knife Trade Locked 460.00 € Inspect in-game Add to cart Factory New Wear 3.62% ★ Huntsman Knife | Doppler Covert Knife ...
Stats
---